ere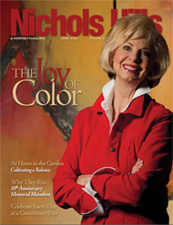 Featured in April 2010 Nichols Hills click here

About Joy Richardson
Youíd probably require extensive therapy if you crawled into the brain of an abstract artist! Everything gives us inspiration. Iíll see a hue made by the shimmer of spilled oil, a shadow shape created by sunlight hitting an object, or a texture that compels me to touch and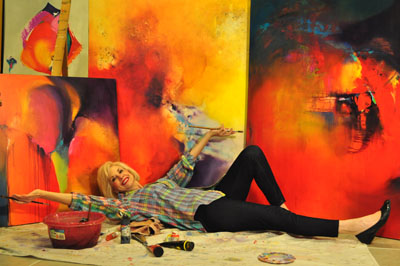 investigate. Add in an obsession with color and experimentation with asymmetrical balance, and youíve got a wide creative streak which recognizes no boundaries.

Itís amusing and thrilling for me to have been juried into the Oklahoma City Arts Festival for a number of years, as people visit my booth and tell me exactly what they think. Their assessment of abstract art leaves me exhilarated, laughing, or sometimes wounded! But thatís art for you.

My Oklahoma City studio is flooded with sunlight and there I have the delicious freedom of immersing myself in the creative process. Acrylic paint is my medium, and like a mad scientist, I brew up new colors.

Actually, I do have a life in that my husband and I are the parents of three grown and married children, and the resulting nine adorable grandchildren. Iíve written a weekly humor/travel/social column for FRIDAY, a local newspaper for over twenty years, and spent years being active in our philanthropic community.

My paintings hang in homes, galleries and public buildings across the country. Hope you enjoy my work, please call if I can help you.